Our tree house is located in old mixed forest just below the top of Zvičina. It is a small gorge with springs in a quiet place. It will offer you a cozy and comfortable space for relaxation, contemplation and rest.
In the living area you will find a double bed, kitchenette, toilet, and sitting in the form of a sofa bed, which also serves as an extra bed for children. You can enjoy the view of the forest from the heat, through a panoramic window, or on the outdoor terraces. Under the living area there is a rest room with hammocks, so it is possible to spend time outdoors even in rainy weather. In periods of colder weather, the gas in the treehouse will provide you with gas stones.
This treehouse is specific due to its construction of natural materials, thanks to which it is a pleasant climate in all weathers and, moreover, they are very aesthetic. The structure consists of a wooden skeleton, insulating clay mixture and straw. 
There is a self-service bar for eating and drinking, where you will find goodies of all kinds. Some things are free and others are provided for a friendly amount, which is thrown into the placed money box. If you want to bring quality špekáčky or meat, add everything to the note when booking.
In the gorge below the Treehouse there is a spa with a Finnish bathtub, which will ensure you complete relaxation. The bathtub is connected to the terrace where you can relax in the sun loungers and take a shower with hot and cold water.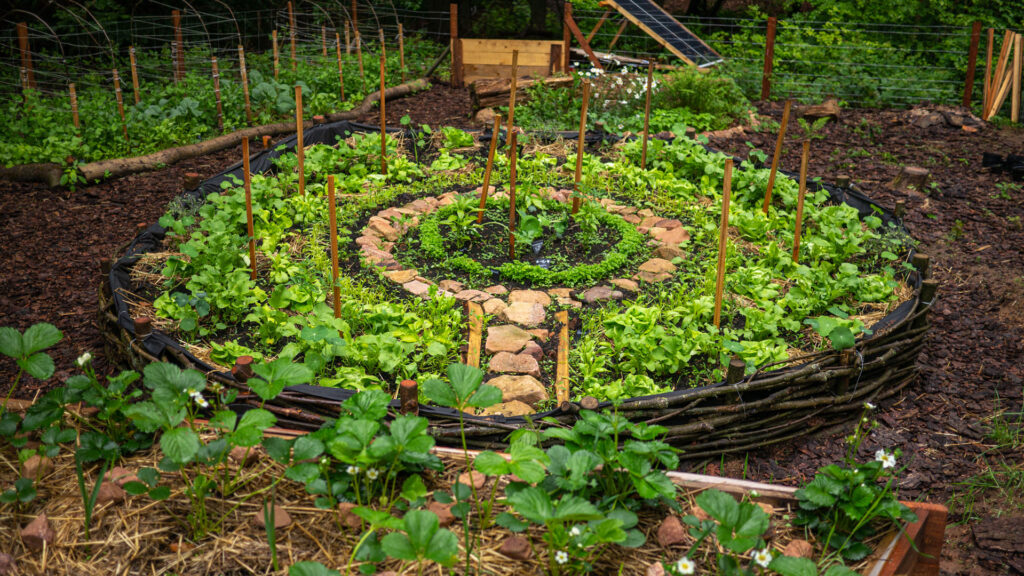 In collaboration with a permaculture expert, we have created a forest garden where you can refresh yourself with salads, peas, strawberries and other goodies that are currently growing. In addition to this garden, there are other flower beds with herbs and ornamental flowers. We have prepared a manual for you in which you will learn how to behave in the garden, what and how to collect, as well as how the medicinal herbs from the surrounding meadows work, which you can tear.